Okay, so as promised, here are the pictures I took last night..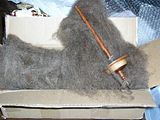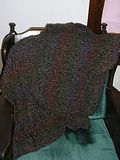 They're both clickable thumbnails, so you can get to bigger versions if you click on them. The top is the wool and spindle that mamacate sent me. I'm looking forward to getting some time next weekend to try it out. We only have plans Thursday, so I'll have all day Friday, Saturday and Sunday to play with fiber. *squee*
The bottom one is my Judy's comfort shawl. It's not the best picture - in person, the colored stripes are far more subtle. It's just a big rectangle, though, so it's hard to get a good picture of it. The stripes run vertically, so you can see where it's sort of folded across itself. It's about 6 feet or so long and very snuggly and warm, so I hope she likes it!
As for me, I still love my Birch (am wearing it today), and so does Karyn, my administrative support. I got some Shadow in my last order from KnitPicks, so if I get everything else done in time for the holidays, I might make Karyn her own. She's certainly worth it!