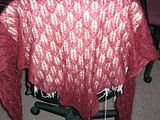 Repaired!

The Back Story:
Some time ago, I discovered a hole smack in the middle of my Birch. I examined it thoroughly and couldn't seem to find a broken thread, which leaves me to believe the fuzz on the Kid Silk Haze caught a stitch well enough to hold it through blocking and the first several times I wore it, but eventually unstuck. I dilemma'd about it for awhile, trying to figure out how to fix it without it being *really* noticeable.

This morning I wanted to wear my grey skirt and Brioche Bodice and none of my little sweaters that I wear over the top of such things in the winter were clean (actually, one was clean, but not dry). So I dug around in the Box of Leftover Bits(tm) and found the little stash of KSH I stuck in there and determined to fix my Birch in the car so I could wear it today.

And I did. And it worked. (I can still tell where the repair is because the patterns jogs just a little where I couldn't figure out which strand was the right one to weave up through, but I can admittedly only tell when I look for it.) *smile* And I've forgotten just how well something so gauzey and delicate can keep you snuggly warm (of course, it also helps that I have my elbow length arm warmers on, too).

Of course, until this morning, this post was almost R is for RIP, as in rip out your knitting, as in Rest In Peace little sock:




I made it this weekend and only when I finished the foot did I realize that it would be *way* to small for its intended recipient. It's be reborn (Aha! R is also for Rebirth!) as a larger sock now: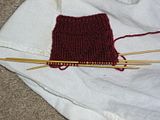 Hrm.. I dont' think there's a way I can work this next one into the R theme, but thought I'd post a progress pic of Breezy Cables. This is the first sleeve, finished, but unblocked: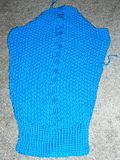 The second sleeve is also just a little more than half finished, so I'm not *too* far behind schedule!