Here's a health to the company and one to my lass
Let us drink and be merry all out of one glass
Let us drink and be merry, all grief to refrain
For we may and might never all meet here again
- "Health to the Company", traditional
There is a Scottish tradition of greeting and parting wherein the assembled pass a small, lug-handled bowl traditionally filled with a dram of Scotch whisky and each take a sip. It's a tradition that resonated with us when we first learned it, and one we wanted, in some way, to incorporate into our wedding. We discovered that the small bowl was called a quaich, but never managed to find one that was quite right for what we envisioned.
The night before our rehearsal dinner, my personal attendant and close friend Tori arrived to help us pack up and prepare to leave the following day for Ripon. She brought with her two gifts that I treasure to this day. In addition to her likely more traditional tasks for the day, Tori had been charged to be my flask bearer. Her first gift, therefore was a small circular flask filled with 18 year old Glenfiddich. The flask is beautiful and just the right size for carrying with me at events.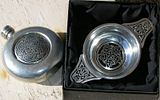 Her second gift was for both of us. We opened the small box to discover that she had found and acquired for us a small silver quaich. The knotwork on the quaich is reminiscent of the knotwork on my flask and also of the knotwork on our wedding bands. It was probably one of the most meaningful gifts we received.
Our quaich was passed the evening of our wedding among our wedding party and close friends & family. It has appeared on other occassions in the last four years when our more far flung friends are reunited. It is a symbol not only of the love we bear each other but also of the love we are surrounded by from our friends and family.