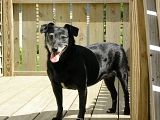 For a little dog, she has some bit neuroses.

She has abandonment issues. Which is understandable; she was abandoned, pregnant as far as we could tell, in the wilds of Mississippi when she was about 3. By the time she was caught, by the ranger at the summer camp I was working at, she'd whelped the litter and we can only assume none survived. She was malnourished (because scavenging garbage doesn't really make for nutritious eating) and rather pathetic, but still savvy enough to wag her little tail at the sucker who walked around the corner. *smile*

But yes, neurotic. At it's worst - when we move - it's quite obvious that she's panicked. But even when it's not so bad, it's .. bad. Like if either one of us starts to pack, for a day or a week. She *hates* when a bag or a suitcase comes out. She *knows* at least one of us is leaving. Leaving her. Alone.

There are times when it's unavoidable - I'll have to pack a suitcase for a week away. I'll put it off as long as possible so that she's not traumatized quite so long, but it's always miserable. She doesn't do anything bad. She just.. looks at you with those big brown eyes that look like she's going to cry at any minute (except that she's a dog and can't cry) and sits there. Miserable.

And it's no better when she gets to come with us because we can't explain to her that yes, we're packing, but it's okay, because we aren't going to leave without her. Until we start to pack *her* things, she doesn't understand. (And once we start to pack her things, she gets so terribly excited that we have to wait until just before we're leaving to do it or she'll drive us nuts or kill herself from anticipation.)

We've learned some tricks - like letting her out the back door and then hustling out the front door with bags that we've surreptitiously managed to get packed and loading them into the car. Or distracting her when it's just one of us leaving with a Kong full of peanut butter.

But sometimes, no distraction is readily available, so we.. wait. And wait. And wait some more. And finally the morning we're supposed to leave, we run around like chickens with our heads cut off trying to pack at the last minute. And remember that we need socks and toothbrushes and shoes and where's my belt?

All because the little dog with the big neuroses has also claimed our hearts.