.. well, delayed, at the moment. Sorry about that!

D is for Donovan, my nephew.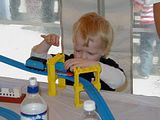 Dono loves trains, especially Thomas the Tank Engine and his friends. This all started one fateful day several years ago when we were at a Barnes & Noble with my mom, my sister, Dono, and my mother-in-law. Barnes & Noble's kids area had a toy train and tracks set up and Dono was fascinated with them. He played happily for as long as we were in the store and *howled* when we had to leave. Judy, my mother-in-law, decided that since the little trains had made him so happy, she wanted to get one for him. She asked mom and I if we thought Dawn would mind and then picked out one of the little Thomas trains.

He now has, thanks in large part to my father's genius, a low, wide table with drawers just for his tracks and trains, and more wooden track and trains than he knows what to do with. He has a smaller set of trains and tracks that live at mom and dad's for when he comes to visit there, and a little carry case that he can put several trains and a small handful of track in for when they go other places (like to our house).

He *loves* his trains. They are his favorite toy and he will, when allowed, run track all over the house for his trains to run along (although pieces sometimes go missing when Kaleigh, his little sister, decides they might be fun to chew on).