Motivation.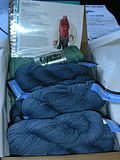 There's nothing quite so motivating as receiving a large box of new yarn and patterns for two new projects. No, I can't tell you what the Cotton Fleece is for; this represents the start of my holiday knitting, so pictures will be a bit obscure.

This is Rogue sleeve number 2 as of sometime yesterday evening, a little blurry: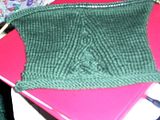 And here are both sleeves, finished but unblocked: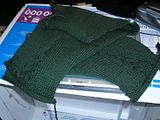 Yup. Motivation. On the hottest weekend of the year, with heat indices over 110, I was struck with the indescribable urge to pick up 100% wool and pound out sleeves. *shrug* Blocking will likely wait for a bit though - the humidity is so high I think it would take days for it to dry - and it's not like I have any inclination to try it on at the moment, so for now, it's enough that the pieces are all complete.

In the meantime, though, I have a decision to make.. cotton, or alpaca & wool?