Things have been busy again here this weekend. Mom and dad came down to help us pull out the stumps from all the arborvitae bushes Jack and dad cut down a few weeks ago. You may remember the before and after shots of the side yard; after today, this is all that's left: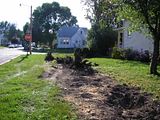 All totaled, we pulled 16 stumps, 4 from the front porch..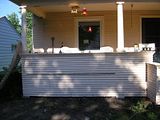 ..and 12 from the side lawn. 11 of them were pulled yesterday and dad and Jack drove them to the green dump before it closed. The dump is only open Saturdays and Wednesdays, though, so the remaining five stumps are still in the side yard for another couple of weeks until dad can come back with the truck.

The side yard bushes were quite old - we counted 22 rings on one of the single trunk stumps - and most of them had really large and entangled root balls:




Dad had some 60 year old logging chain that just barely survived - several links snapped throughout the weekend, but the resulting chain was always still long enough to continue working - and we uncovered two ground hornet nests in the process, but I think at least the "major" excavation work is more or less complete.

The weekend dad comes back to take the rest of the stumps to the green dump, we'll also pick up a truckload of free mulch (the green dump composts everything compostable in what they take in and provides free composted dirt and mulch back to the community) to fill in the holes. In the spring, I'll plant a side garden where the bushes used to be, though we're not going to replant in front of the porch. Instead we're going to put out window boxes and plant something that vines - like morning glories - to provide some shade during the summer on the front porch.

In other news, mom was flipping through some of the knitting catalogs that were lying around and decided that she wanted one of the wraps she found in the Patternworks catalog (Panobo, the one on the bottom left). So, she bought the yarn (alpaca and wool - can't wait to work with this stuff!) for me to make it, along with yarn for another project she wants me to make. That started a project planning session where I figured out yarn for a couple more projects (one will be a holiday gift and the other will be another knotwork hoodie for me - Celtic Icon from Inspired Cable Knits).

I'm also toying with some ideas for other holiday gift knitting - I'm sure I can figure out someone to give this to - but I'll have to wait until September to order the yarn for those projects. And you won't see pictures of the holiday gift stuff until after the holidays - can't risk folks seeing what they'll be getting!