I woke up this morning with the soundtrack from Camelot running through my head. It's not all that unusual - the CD has been burned to my tablet and so the songs periodically come up in the shuffle - but it's a bit disconcerting to wake up with the knights talking about the king choosing 5 a.m. for the queen to burn..

Right then, the holiday knitting proceeds apace. Even though I've made absolutely *no* progress on Jack's sweater, I'm almost finished with the rest of the knitting I need to do. From this weekend (all pics are clickable thumbnails):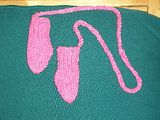 First up, the world's tiniest mittens. These are for Kaleigh, my 18 month old neice. Yes, she's very small. The mittens are about five inches from cuff to fingertip and though made without a real thumb, do have a little bump so she has enough room to move her little fingers around. Dawn specifically requested mittens with strings so that Kaliegh can't take them off and lose them. Apparently they aren't made anymore because the string is a strangulation hazard. Yarn is KnitPicks Crayon in Pink, which may be quickly becoming my preferred baby-clothes-yarn.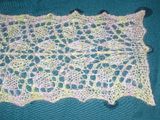 This one ought to look familiar.. This is the Falling Leaves scarf I made for the silent auction for HCWR. I like it much better now that it's blocked - it's not as scrunched and even though it's wider, I think it looks much better. It's also very soft and snuggly warm, so hopefully it will be both functional and pretty for the lucky winner. For comparison, below are the two in progress pics from earlier..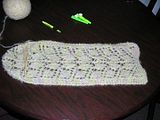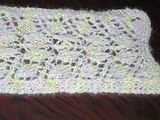 I'm really glad I finished it! Here's hoping it does well at the auction next week.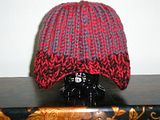 This is the Brioche Helmet Hat from the Fall Interweave Knits, for Dono (modeled by Jack's big-head Darth Vader). Dawn wanted a hat with ear flaps and ties originally, but I was worried that now that he's older, the ties would just get in his way. When I showed her this option over Thanksgiving, she agreed that it would probably work better for her active almost-five-year-old. Yarn is KnitPicks Wool of the Andes in Red, Mist and Coal.

I was seriously concerned about undertaking this hat after reading about mamacate's difficulties with gauge, but that turned out to be the least of my problems. I originally thought that I'd only use a single strand, but the pattern was only written to fit an 18-inch head in the largest size, and Dono's head is 21-inches. so I decided to double strand and adjust for the difference in gauge by using the smaller pattern. Worked like a charm.

The ear flaps, though, gave me fits. I'm not sure if it's that the pattern wasn't written correctly or if I just wasn't reading it correctly, but I could *not* get the short rows to come out with the correct number of stitches/rows and ending on the correct side. I improvised, and it worked fine, but what I did is certainly not what's written in the pattern.

I do like the brioche stitch, though, even if the k3tog decreases (which, using double-stranded yarn, meant I was knitting through 10 loops of yarn) were a trial.




And last of the finished projects (or at least finished-but-for-the-fulling) is a pair of FuzzyFeet for Mike, made with KnitPicks Wool of the Andes in Mist, Coal and Hollyberry. He's apparently worn through the pair I made him a couple years ago (which were all black and had R2D2 embroidered onto the tops of the foot - he's a *huge* Star Wars fan. *Huge*.) so I'm going to do some looking for some slipper bottoms to put on these to see if they'll last longer that way. I know I can get them online, but if I can find them locally I'd prefer it so I can see the sizes in person.

So that leaves:
* Dawn's Shapely Tank, which is finished but for the arm- and neck-trim, and which will hopefully stretch in the wash so it's really big enough. If not, I have some other options, including the possibility of a Clapotis, or even another(bigger) Shapely Tank if there's time.
* Two Lucy bags, one large in KnitPicks Wool of the Andes Stream (which is much more turquoise than I expected and may have to be bleached slightly) and one small in KnitPicks Wool of the Andes Hush, for Sara and Kallie. I've started Sara's and have the bottom finished, so that one should get finished this week. I'm waiting to full things until I have all the bits that need to be fulled knit, so finished pictures might be a couple weeks out.
* Possibly a pair of FuzzyFeet for mom, but only if I can find the slipper soles as she managed to wear hers out even faster than Mike.
* Jack's sweater.