It came!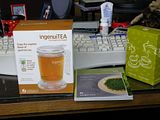 It's bigger than I expected (the pictures below help with scale), which is neat. And holy "samples" man! The little box on the right contains four not-so-sample-sized tins of flavored tea - oriental spice, vanilla, mango, and strawberry. There's pr'bly enough for 10-12 cups of each flavor in the tins! Having been on a chai kick lately, I decided to try the oriental spice first.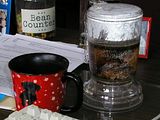 It took me a few minutes to figure out how it works because I thought the little video on the website showed a lever that you slide to make it pour, but you just set it on the cup to make it pour (there's a little piece that slips down to block the water from pouring, but the edge of the cup pushes it up out of the way).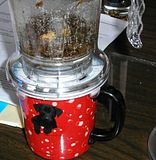 And I was almost stymied in my quest to try it Right. Now. because the sewer pipe for my building has apparently decided to back up which means not only do we all have to trek out to another building to go to the bathroom, but also that we aren't allowed to run any water or pour anything down the drain. Fortunately, I bring in water every day from home (the water here has a chemical/cholorine taste), so I just needed to decide it would be okay if I drank tea out of my unwashed cup from yesterday.

MMmmm.. I need to learn more about how much tea is enough - the oriental spice was tasty, but not quite strong enough.. or something. Maybe it just needed a little milk. I guess I'll have to make another cup and try that out. *grin*

In other news, do you know about the DeStash blog?! Evil thing. I've added it to my blogroll just in case something irresistable comes up (because, you know, between several pairs of socks, at least three sweaters for myself, and at least one more bucket hat, I don't have enough projects).

Speaking of projects, though, I finished the second sleeve for Peek a boo in the car this morning (all but the last cast off because I think this one ended up a row shorter than the other and I want them to match; the other sleeve is at home so I'll have to check tonight). I'll try to get the pieces blocked tonight, but I have a planning meeting with the Board officers for HCWR from 6 until about 8, so I may be wiped out by the time I get home.

So that means I need to figure out a commuting project to start tomorrow. I need to make another bucket hat, but since I'm stubborn and didn't want to buy a 16 inch circular when I could make five dpns work just as well, it's not really a good project to toss in a bag until it gets past the brim part. I have yarn for Celtic Icon (but not the yarn used in this picture; I have Knit One Crochet Too Angora Soft in Light Moss & Moss from Webs) from Inspired Cable Knits, a sweater kit from Blackberry Ridge, and the Easy Lace Jacket kit (which I was a bit surprised to find included Cascade 220 for the yarn) from White Lies Designs, all for me. I feel sort of obligated to do the Blackberry Ridge kit first, both since it's the oldest of them but also because it's going to quickly be too warm to wear it comfortably. But the Lace Jacket is whispering things like "but I'll be quicker", so I'm a little torn.