My husband had oral surgery on Tuesday. It was not terrible, but it was a bit more invasive than your typical tooth extraction. I'll spare you the details of the surgery and instead show you what I started to occupy myself while waiting: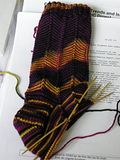 Yup, it's a Jaywalker done in KnitPicks Memories in the Pansy colorway. It's a quick little pattern, easy to memorize, and therefore just about perfect for waiting rooms. I have to admit,though, that I wasn't thrilled with the striping - I didn't like that the colors *always& pooled in pairs, so that the black and dark purple were always striping and the yellow and magenta were always striping - so I wasn't too terribly upset to discover that the sock was much to tight when knit on US 1 needles.




So I ripped it out and started over, doing the ribbing on US 1s and then switching to US 2s for the chevron pattern. So far, I like it much better - the striping seems to be more mixed up and it's definitely not as dense as the first time.

This will likely be my plane knitting for my trip to South Carolina this weekend, but I'm also bringing some newly acquired Lorna's Laces (my first time ever using this yarn!) just in case I finish this pair before I get home.