I walked into my office this morning to this gorgeous sight: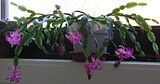 Quite lovely! It's been blooming more or less continuously all winter, but this is the most blooms it's had at any given time. There are still a few more buds that have yet to open, and I suspect it will continue to bloom for another month or so and then go dormant again for the summer. In the meantime, though, it's a wonderfully welcome splash of color in my office, especially with the sunlight streaming in behind it.

In other news, I whipped up another Felted Bucket Hat this weekend for my mother-in-law. No pictures - I forgot to get any before I wrapped it up - but I might try to get one of her wearing it tonight when we meet them for dinner.