Yea, pictures! All are clickable thumbnails.

So this wasn't finished this weekend, but I did take pictures of it all together in one spot finally.





This is the fleece that mamacate sent me with my beautiful drop spindle. It was gorgeous to work with and now that I've spun some with other fleece I realize really just how much it helped to have a hand prepared fleece. The fibers weren't packed too tight to pull them out in drafting easily, the wool was soft and beautiful to spin. I'm a little surprised that all that fluffy fleece only resulting in a comparatively little bit of yarn. Gives a whole new appreciation for how much wool is required to really make a sweater..!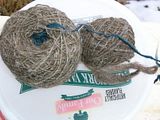 This one shows the little snippet of merino from Carol. It's beautiful, but it was slippery and as I was spinning it after most of the fleece from mamacate, the spindle was a bit heavy for it. I think starting with it from an empty spindle would make it easier to work with.

And now, onto a new fiber art! As I mentioned awhile back, my mother-in-law gave me an old rigid heddle loom at Christmas. I decided pretty much immediately that I wanted to use it to weave my first hand spun yarn (see above). Which meant I had to learn to warp it and then actually go through the motions and get it started. I sat down this afternoon and read the little instruction sheets and cut my warp strands and threaded the heddle and tied all the little knots and now it looks like I have Yet Another Fiber Hobby(tm).





I've only done a few passes, but I've already learned some things I'll do differently next time. For instance, the holes in the heddle are rather small, so to get the warp yarn threaded I had to use a needle, which was too large to fit through one of the holes in the heddle (note the periodic gaps, which became a planned design element after I discovered the first, and possibly only, one). That added some time to the set up.

And now that I've started weaving, I wish it would pack more tightly, which is pr'bly due to my history with the tightness of most tablet weaving. I think that if I used thinner warp threads it would pack more tightly and also show off the weft yarn a bit better. I wanted a contrast, but the red really drowns out the subtle color shifts in the brown.

But, for a first project, it's more than acceptable. *smile*

And lest you think I've been neglecting my knitting, rest assured that I did some of that this weekend, too. Most notably, I finished Jack's sweater.





I did not, as it turns out need any of the extra skeins, but I'm glad I had them as it was darned close. The yarn is Cascade Cotton Rich and produced a rather heavy fabric, but it's what he wanted, so it's all okay. If I did it over, I'd do the neck differently as it is rather large.





..and because usually knitters post pictures of their feline companions with their knitting, here's an obligatory picture of my little black pig who snuck in and curled up on the sweater while I was out on the porch taking pictures of my yarn in the natural light. She's a comfort creature and given a choice will curl up on any piece of clothing one of us has worn and discarded in a convenient place. I guess even though Jack hasn't worn the sweater yet, it smells enough like me from being knit that it meets her criteria.





My hopefully-next finished object will be the second of this sock. It's the Cashsoft from Kim's stash and it's absolutely divine and soft and lovely and I can't wait to wear them. The pattern is a study in screw-ups-come-design-feature. I also cast on with the Noro Lily I got recently in a trade for a ribbed tank, but that's likely to take a little longer than the second sock to finish.

Things I want to get done in the next couple months include Rogue (finally!) and a couple of the projects in the Winter Interweave Knits, namely the Fair Isle 101 sweater and the socks. There were a couple other projects that piqued my curiousity, but I can't recall them off the top of my head and am too lazy to dig out the magazine. The Fair Isle 101 sweater will be the precursor to the Blackberry Ridge sweater kit I got for my birthday/Christmas, so that will likely follow in time to wear it next fall.

I also managed to get my bike trainer set up (though I'm missing the rear axle and can't seem to track down anyone who sells replacement parts; hopefully the manufacturer will email me back tomorrow) and do the first matwork workout from the Stott Pilates series. I need to learn not to use my neck and remember to engage my powerhouse all the time, but it was a good start.