The baby sweater is progressing. The nursery is a Mickey Mouse theme, so I used Mickey colors (red and black) for the little sweater (pattern is Haiku with Lion Brand MicroSpun yarn because it's the only thing I could find in true red and black that was still somewhat soft and machine washable). Here's a shot of where it was yesterday, before I seamed the shoulders or started the sleeves: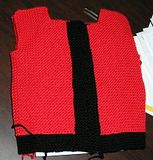 I'm now almost done with one of the sleeves. But I'm having trouble finding buttons - I didn't think it would be all the difficult to find little Mickey buttons, but they've been elusive so far. My mom's checking a couple stores up by her, but if she doesn't find them, I'm sort of stuck as far as what to use instead. I'd also still like to make it more identifiably Mickey if I can't find the buttons, so I'm trying to decide if I want to try to get one of those (stiff and scratchy) patch things to attach. I'm loathe to do that to the little sweater, though.

Once the little sweater is finished, I need to start working on my sister's shawl. I was planning to bring something to knit while at the shower (I am not usually a big shower-goer so having something else to focus on while there will be necessary), but since my sister will be there I can't very well work on her shawl. Last week I splurged, though, and picked up a skein of Mountain Colors Bearfoot (60% superwash wool/25% mohair/15% nylon; 350 yards) in rosehip: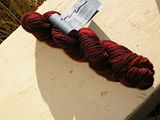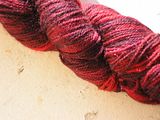 (The color is really somewhere between these too; the first is a bit too orangey and the second is too bright.)

I'm trying to decide what to make with it. Socks are an obvious option and I'm contemplating trying out the recently popular Jaywalker pattern with it. But it's rather luscious and honestly the most expensive yarn I've ever bought for something for me ($20/skein), so I'm thinking it wants to be something more showy than socks.

So, in response to the governor's decree that all state buildings will be set at an ambient air temperature of 68 degrees in the winter, and knowing that my office is usually at least a degree or two colder than the ambient air temperature of the building, I'm also comtemplating a scarf of some type that I can keep in my office and wrap around me when it's chilly. I don't think I want a full shawl as I tend to wear sweaters already and I think it would look funny.

I'm stuck on a suitable scarf pattern though - it's not lace weight yarn and I'm not sure I want something *really* lacy, but something a little elegant would be nice. I have a few days to pick something, and I do have a backup project (the ribbed tank in Noru Lily is still only about half finished in my knitting bag), but it would be nice to get the scarf bit done while it'd still be useful.