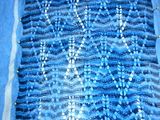 Sorry for the contrast on the photos - should have used a plain colored towel and not one striped in the two main colors of the wrap. I also didn't want to pull out the futon to block it flat because I was afraid the dog would decide to take a nap on it, so I stretched it across the back of the couch. It worked, but wasn't quite long enough so I had to wrap the ends around the sides a bit.

Blocking was not ideal.. the garter stitch on the ends is stretchier side to side than the lace pattern, so the ends ended up slightly wider than the body of the wrap. I also had to tension it end-to-end quite a bit so that the pooching of the lace pattern would flatten out, so there are little pointy bits on the ends that I'm not happy with. I'll need to re-wet just the ends and block just those bits again to get it to even out.

In other news, Holiday Gift #1 is progressing, but I'm finding that I have to take breaks from the mostly cotton yarn or my hands start to hurt. So I started mom's Panobo wrap. Nope, you won't get pictures - mom reads here every now and then and even though she knows what it is, I don't want to spoil her surprise when she sees it finished in person. I will tell you that I rather like the yarn - Berroco's Ultra Alpaca - because it's really very soft and light. I did have to go down a needle size to get gauge, but that's not really unusual for me.

In trying to find the right needles, though, I discovered that I appear to have two 29-inch US9 circulars. So since I need another 29-inch US7 to finish this project, I may try to trade one of the US9's for a US7. I unfortunately don't have the packaging for either - both are metal, and I'm pretty sure one is a Boye and the other is a Susan Bates Silverado. The Boye has a bend in the needle toward the join and a stiffer cable; the Silverado is a straight needle but a wonderfully relaxed cable. The joins on both are smooth.