*sigh* I wrote my "J" post in March, way ahead of schedule, and saved it as a draft. I *swear* that the week before last, I published it. It's no longer in my drafts folder, but neither is it showing up in my blog. *grumble* I can re-write it, it's just frustrating that I was so ahead of the game and was foiled.

In the meantime, I will distract you with knitting pictures. First a couple of finished objects: the Fixation socks and the Lily ribbed tank.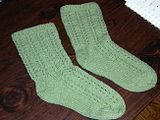 I'm not sure how I like the socks. Fixation is just not.. really my thing, I think. I haven't worn them yet (in fact they're still sitting on the table like that and I think I took this picture this past weekend), so I might change my mind, but I don't think I'll make more socks out of Fixation, at least not for me. I have most of a skein of this color left plus most of a skein of a variegated colorwary, so I might make a pair for someone else using those.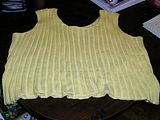 The tank I like quite a bit. It could be a little longer and I probably could have made it narrower, but if I wear another tank under it (it's a little too see-thru to just wear on its own), it works just fine. I wore it Sunday to my niece's birthday party and this picture was taken after that, so it's a bit stretched out. The silk doesn't spring back as well as wool or acrylic would, but I don't really mind that.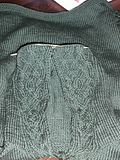 This, of course, is Rogue. Or at least most of the hood for Rogue. I actually finished the hood this week, but don't have a more recent picture. I'm not sure if I'm going to start working on the sleeves right away or not since it's unlikely that I'll have much opportunity to wear it until fall, so it might wait until later in the summer. We'll see.

I've also continued plugging away on the Candle Flame wrap and am about four or five repeats into it, which is still only about 2/3rds of the first skein. It's sort of putzy, but I'm getting used to the chart (it's 36 rows) so it's been going better. I'm starting to wonder though if the variegated yarn is too busy for the pattern.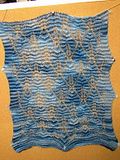 This is it so far, pseudo-blocked on my bulletin board at work. I think it's the striping that is bugging me - I like the light/dark pools, but the striping is a little too stark. It looks better stretched out, so I'm hoping once it's all finished and blocked properly that it will be fine.

This weekend we're escaping to my parents' cabin and I'm hoping to work on some tablet weaving, so there may not be much knitting progress to show come Tuesday, but I do have about 12 hours in the car the next four days, so there's likely to be some either on Candle Flame or on a new project.