Whee! I finished Birch Saturday afternoon, blocked it overnight, and wore it to the matinee of Dancing at Lughnasa yesterday. *smile* It was lovely. Much easier to wear than the rectangular wraps I have - I think because the extra weight in the back from the point keeps it from slipping to the sides. It's long enough to wrap over my forearms and just sit there even when I'm walking. I foresee a bright and warm future! On with the pictures (all are clickable thumbnails):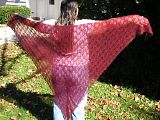 Last things first - this is the "wingspan" shot. It's about as wide as I'd expected, but got considerably longer during blocking than I thought it would. That's not a bad thing - just unexpected.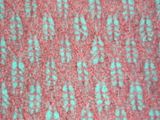 A close up of the pattern stitches. I followed the pattern pretty much exactly (except for inevitable mistakes) - including the K2tog TBL. When I re-started knitting after a year or more of not knitting after being taught, I mis-remembered the directions and ended up knitting eastern crossed for at least a couple years. In eastern crossed, the knit stitch is knit through the back loop, so knitting through the back loop is not at all foreign to me. It's no longer natural, but it's not odd, either. *shrug*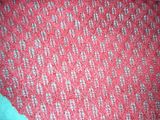 This was my first time blocking anything lacy like Birch, so I wanted to get a shot that included a little more detail of how I pinned it. I was worried about stretching it too much at the edges and creating ridges, but as you can see in the wingspan shot, that didn't happen.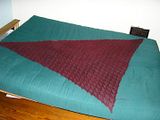 Full blocking shot - it's on a queen sized futon, which gives a bit of a sense of scale. I misted it with regular water and then sort of pressed it with my hands to get the water to soak in (the Kidsilk Haze is so fuzzy that the water just misted on the fuzz and didn't soak in). I left it to dry overnight and by morning it was fine.

I started working on another project in worsted weight yarn yesterday afternoon in the car on the way to the play and wow did it feel strange! I got used to the lace weight stuff pretty quickly and now worsted weight feels huge in my fingers. The fabric is so.. dense! I should soon be getting some worsted weight mohair in a swap and I'm going to try another (smaller) lace and/or scarf/shawl project with it, if I can find one I like that uses what I'm getting. Suggestions are welcome.

We also got some stuff at Home Depot (using the last of the gift cards *sob*) yesterday, which I'm excited about in a sort of geeky way. We bought compact florescent lightbulbs for all the lights in the house. *blush* Our house is 90 years old and while the previous owners have done things like have insulation blown into the walls, it's not the most energy efficient home. Replacing the windows (which is scheduled for next Wednesday) will help enormously - the original windows are still in the house in all their pully-and-weight-dead-air-space and single-pane-and-storm-window glory - but we're still going to have considerably more hefty energy bills this winter than we're used to having. So at this point, any little thing will help, and Home Depot had the compact florescent's on sale - you could get the mini-60-watts 6 for $10, or 100-watts 4 for $10, or the daylight bulbs 3 for $10. We got two packages of the 60 watt bulbs and one of the daylight bulbs - which will go one each in the living room, dining room, and kitchen since the upstairs gets plenty of natural light and we typically spend more time downstairs anyway.

Huh. There's also a rather interesting new report available on concentrated poverty available from Brookings. Nothing earth-shatteringly new, but sort of nice to see some attention at the national level, even if it did take catastrophe to bring it to light.