*sigh* It was a quiet, lazy weekend. And it went far too quickly.

This wasn't technically this weekend, but late last week, I finished the pink Waterfall socks for my little sister. These are sort of hard to photograph - the lace pattern is essentially a 3x3 rib pattern, so it scrunches up quite a bit.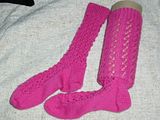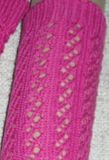 Because I'm trying to keep better track of this kind of thing (and because I actually wrote it down in the journal I got from my Secret Pal!), the details on this one are:

Pattern: Waterfall lace from six-stitch patterns in Sensational Knitted Socks, worked over 54 stitches on US 2 dpns
Yarn: KnitPicks Essential in Petunia; about 1 and 1/3 skeins
Finished measurements: heel to toe = 8.5 inches; cuff to heel = 10.25 inches

This evening I'll finish the front of Peek a boo and will try to get a picture tomorrow when it's light out. I'm hoping the sleeves go quicker; I'm not sure if I'm getting bored with this pattern or just with the cotton/modal yarn, but either way I'd like this one to be done sooner rather than later. I haven't decided yet if I'll do both sleeves at once or not, but no matter what I do, I'd like to have about half of the sleeves done this week.