I finished the first stocking with clocks this afternoon: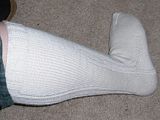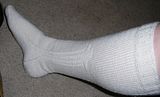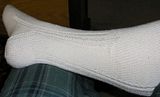 The seam and clock detail makes the stocking very scrunchy unless modeled. I thought about trying to block it, but opted instead to try to get shots from a couple different angles instead. The first is the outside of leg, and you can see the clock detail, the seam, and the star toe. The second is the inside of the leg and I think it shows the clock detail a bit better. The last shows the back of the stocking and the heel.

I shortened the heel flap from that called for in the pattern because my row gauge is slightly larger than that called for. I adjusted for this slightly in spacing the calf shaping, also, but I think it would have been fine there if I hadn't. The heel flap, though, is four rows shorter and I think it would have been far too long if I hadn't adjusted.

These aren't being made for me and are a smidge smaller than I would prefer - the fabric is quite stretched over my (rather shapely) calf and the foot is a smidge shorter than would be comfortable for me.

The second has been started and I'm through the top band and almost to the start of the calf shaping.