.. from my friends and family (all pictures are clickable thumbnails; click them to load a bigger version):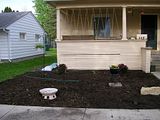 The yard is, effectively, complete now. We picked up the last two bushes (wine & roses weigela) from a local nursery and planted them Monday. We did the bulk of the mulch on.. um.. Tuesday? I think, and put in the accent bits - the shepherd's crook with the bird feeder and hanging basket of johnny-jump-ups (okay, okay, I know they're really violas), the plant stand with three gerber daisys, and the fire-pit-turned-bird-bath*. I think I strung the twine for the morning glories to climb on Tuesday too.. might have been a different day, though. Now things just need to grow.

The raised beds are now about half full of dirt, with a few more barrow-fulls to get added to each one.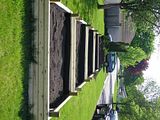 I'm a little concerned that the dirt won't be deep enough in some spots (we threw in some brick edgers that were lying around in the yard unused to try to help with drainage in the beds, but that may have been a mistake because the soil over them is a bit thin now), but it's fixable, so it's not a deal-breaker. The last of the dirt will hopefully get moved tomorrow - I had to stop Tuesday when I couldn't lift the shovel anymore and my right elbow has been decidely cranky since then from the overuse and abuse; since there's no real rush, I took a few days off from shoveling to let it rest and heal up a bit. I'll likely start getting the seeds and plants planted next week - the tomatoes and other live plants from Burpee are expected to arrive on the 15th (except the Walla Walla sweet onions, which are already here).

The crowning glory of the week, though, is the bathroom. Here is the finished tile floor: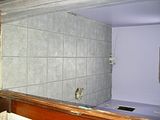 And this is what it looked like yesterday: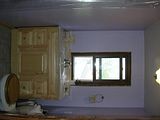 It's gorgeous. It represents a fair amount of sweat equity - mostly my dad's, but there's also enough of mine in there for me not to feel *too* guilty - but oh, boy, has it been worth it. We finished the last of the trim & got the heating vent in today, so here it is, more or less finished: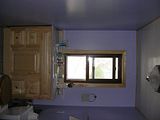 We still need to pick up a linen shelf/cabinet for the near corner, and we're looking for a corner medicine cabinet, but will likely have to built that to spec. The window - which until now was effectively blocked by the $%(@#*@& plywood that they used to back the *%&@#$) shower - needs another coat of polyuerethane and a blind, but I'll gladly get that installed as a final farewell to the ugliness that used to be there (as seen below):




And I realized yesterday as we were hanging the washcloth ring and the hand towel rack that I really rather desperately need some new washcloths! Up to now, all my bathrooms have been a variation on hunter green, so most of my towels and washcloths are darker colors that just don't look right in the new bathroom. They're also all at least 4.5 years old - the newest having been wedding gifts - so it's definitely time! I might have to hunt around for some linen yarn to make a few..

*The fire-pit was thrown by the woman I got my pottery wheel from, out of raku clay, and bisqued; she was moving to Florida and couldn't take it with her and asked if I could test it out for her. Unfortunately, we can't have an uncovered fire in our yard, and the piece is too large for us to pack safely when we go to events, so it's never been tested. However, lining it with a large plant tray and putting some leftover tile bits under and in the tray makes it a more or less effective bird bath. *shrug*