I've been traveling most of this week - Denver Sunday evening through late Tuesday and then Madison Wednesday and Thursday - and while it's been a productive and useful week, I'm very glad not to be traveling again this weekend (especially because I only get seven days at home before I'm off again to Kansas City for six!).

Sometime today I need to run into town to deliver some games to our Garden Gurus, the male half of which will be chaperoning a class of pre-teens on a trip to our nation's capital next week. They're taking the train and, knowing how hard it can be to keep preteens occupied for a long trip, MGG (Male Garden Guru) asked if we could loan them some of our board games. We've sort of collected quite a few, thanks in large part to some friends who have come to spend the last three New Year's Eves with us playing games, and this is just a sampling of what we're sending along for their trip: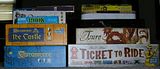 Starting on the top left and going what will end up being more or less counter-clockwise: Phase 10, Peasantry, Queen's Necklace, Rook, Carcassonne: The Castle, Carcassonne (original with a couple expansions), Ticket to Ride, Tsuro, double 12 dominoes, the 1910 expansion for Ticket to Ride, and Monkeys!. I tried to pull a selection that would allow for some smaller groups (The Castle, Tsuro, and dominoes can be played with two people) as well as larger groups (Tsuro can go to 8, but most of the rest top out around 5 or 6). I'm contemplating sending Mystery of the Abbey, but I'm a bit worried it might just be a bit too complex for the average pre-teen. And while we have Settlers of Catan and two of the larger expansions, as well as the expansion for 5-6 players, I think it just has too many little pieces that could too easily get lost on a train (and technically, so does Ticket to Ride, but I can't resist sending game about trains along on a train trip!). Similarly, the Catan card game and Jambo (both two player games) are staying home (though I admit that the Catan card game is staying mostly because we just picked up the expansions from Pegasus Games while we were in Madison and haven't had a chance to play it ourselves yet; we also just got Guillotine, which is also staying here for the same reason.) Yes.. we like good games and our friends know it. *smile*

When I drop off the games, I've been invited to peruse the GG's garden for anything that I'd like to add to my own. I already know that I want to get some balloon flower from them, and hopefully some of the small Japanese irises. And some garlic chives (which I think Jack actually already got and just need to be planted). If the weather clears up tomorrow or Monday, I'll likely go plant the seeds for the vegetable garden (I don't want to plant them and then have a thunderstorm roll in right away for fear the seeds will flood out and all clump in one place).

I also plan to round out the packages for the summer swaps I'm doing. I sat down last Saturday before I left and ordered a bunch of stuff for my spoilees and was quite pleased that it all arrived by the time I got home: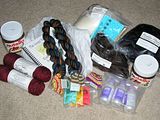 I won't go into detail on what's all there just in case one of my spoilees happens to drop by and figure things out (and there are some things that were intentionally kept out of this picture because I was worried they'd be too easily identified by their intended recipients!), but I will say that it's going to be hard to let some of this stuff go! There are just a few finishing touches needed for each of them, and of course, I still need to knit my sockapalooza pal's socks, but I have a couple months for that still.

In the meantime, I finished the first of the toe up socks: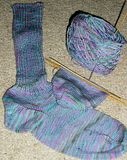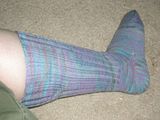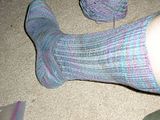 I didn't really use a pattern, but the yarn is Lorna's Laces in Buck's Bar and I just worked the leg until I ran out of yarn. As I realized how tall these were going to be, I added in some calf shaping, which I think turned out pretty well considering I made it up as I went along!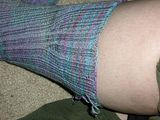 (Thank goodness for Blogger's new auto-save feature! I just accidentally clicked on a shortcut in my menu bar and thought I'd lost this entire post.. Whew!)

And as long as the weather stays chilly and storm-threatening, I snuck a skein of Louet Euroflax in Lilac in with the orders for my spoilees so I can snuggle in and watch a movie (we got both Babel and Pan's Labyrinth from Netflix while I was gone) while making a couple washcloths (modified from the hand towel pattern from Mason-Dixon Knitting) for the upstairs bathroom.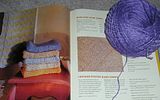 I'm admittedly a bit torn because I'd really love to make hand towels for the new bathroom as well, but the Euroflax is a bit spendy. I've checked out KnitPicks new CotLin, though, and I think I could make a couple hand towels with the Linen colorway using the Royal Plum for accents that would work well and would come in around $7.50 per towel instead of the $20 it would be if I used Euroflax. And if they turn out well, I might just make some for gifts, too.. I know at least a couple folks who have done bathroom remodels lately!

Oh, and sometime soon I need to do a book post. I finished Eat, Pray, Love a few weeks ago, and since have also finished The Life of Pi and started Middlesex. And I picked up a couple new books while in Madison as well - Tayari Jones's The Untelling (you knew this one was coming, right?) and Gabriel Garcia Marques's One Hundred Years of Solitude. The stack on my bedside table doesn't seem to be getting smaller, but I couldn't be happier at having so much good literature to read!