I'm sure I did something this weekend other than knit, but in all honesty, the knitting is all I have to show for it.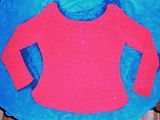 That would be none other than the Tied Up Tee, finished by for the ties and blocking. The color in this picture is pretty much all wrong - the red is far too bright and the towel underneath it is actually forest green, but it was this or a shot that is too washed out to see anything. I machine washed it and originally machine dried it, but it tightens up quite a bit that way. Fortunately, wetting it stretched it out again to the proper size, but I'll have to be sure to include a note so the recipient knows not to machine dry it.

I really like how well the neckline on this one turned out, and in general I'm still rather fond of the shaping in this line. It's a pattern in the "shapely" series from White Lies Designs. The only pattern bit that I'm still a bit troubled by (and it's not just this pattern) is that there seems to be more bulk under the arms where the sleeves join the body than there should be. It's almost as if the top of the sleeve cap is just a smidge too long - or maybe too narrow - and it causes some bunching on the underside or something..

The ribbon yarn is a little scratchy to me, but I'm hoping it will soften with wear and washing. I'm tempted to try to run it through the wash another time or two to see if that will help to soften it before I gift it, but I don't want it to look used. :/




With Tied Up mostly done, I've cast on (and am actually half through the first repeat now) my last holiday garment. I'm using Knit Picks Shine Sport in Sky and so far I'm rather fond of it. It's very soft and has a beautiful hand, but the cables should still pop quite well. I'm really liking the color for this one as well - it's enough to give it shading that the white model lacks, but not overpowering.

It's a slippery little yarn, though, so I'm having a hard time settling on proper tension - the cables mean the tension should be a little looser or I have a hard time making the crosses, but I don't want it to be so loose that it stretches out when it gets washed. I'm hoping the 60% cotton will help combat some of that. It also splits pretty easily, which so far hasn't been too much of an issue with the cabling, but is another reason to try to keep things a little more loose than I might want.

The yarn is also pretty light, which is a little surprising given that I'm used to high cotton content yarns being rather heavy for their bulk. If this one turns out as well as I'm hoping, this might be a yarn (or at least a fiber combination) that I can use to make sweaters for Jack out of (he's allergic to animal fibers and we've not had the best of luck with either acrylic or 100% cotton for sweaters for him).




I even sat down and knit up the swatch of Cotton Fleece I used to make an earlier gift so I could wash it and provide appropriate warning for how much it might shrink (Color in the second shot is accurate). As I'm told is usual for cotton yarns like this, the shrinkage is much more noticeable in the length and in the width - and it's substantial! It shrank just about 3/4 inch over an original 4 3/4 inches, which is almost 16%. So the warning will be either not to machine wash/dry, or to know that it will lose about 15% of the length. I suspect the latter won't be that big of a deal, so it might be what the recipient opts for.