Assuming I'm going to finish the last holiday gift on time, I determined that I needed to finish the back by the end of this weekend: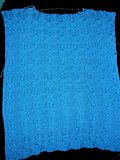 I have a groove in my left fore finger from tensioning the yarn and an odd little numb spot on the side of my left ring finger where I grab the needle, but it's finished. There's more arm hole shaping than it appears - there's a column of reverse stockinette that's curling up on itself in the picture.

I'm at least a few hours ahead of schedule, and given what else I need to finish, that's good. To stay on schedule for completing Peek a boo, I figure I need to have the front finished by the end of next Saturday and the sleeves finished by the end of the following Friday, leaving Saturday for seaming and blocking.

In between times (hah!) I also need to start and finish the other Father sock, and make the ties for the Tied Up Tee. I'm a bit torn on the best way to do the ties, though. I think that I-cord will be more time consuming than it's worth, so I might try to do them on the lucet, which I think I can manage to do while attending an all day meeting on Tuesday.