Go to a week long institute where you're expected to spend all day in a computer lab listening to people lecture on things you actually are rather interested in.
Realize that knitting will allow you to stay conscious and attentive.
Start socks (small, unobtrusive, mindless).
Finish first sock on first day.
Finish second sock on second day.


Plan to start third sock, this one out of smaller, arguably softer, yarn on much smaller needles, on third day and hope these take two days per sock.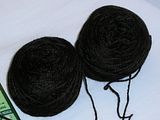 Contemplate other options just in case.

Option 1: Start Rogue sleeves.

Option 2: Consider if the Candle Flame wrap pattern is sufficiently imbedded in the subconscious to be considered "mindless".

Option 3: Figure out if there'sGo to a yarn shop in Bethesda (on Thursday when they're open until 7).