Okay, so before I run away again (this time for vacation up to my parents cabin), I thought I'd post some finished objects and progress pictures from the things I was working on while I was traveling the last couple of weeks.

First up are the finished Lorna's Laces toe up socks in Bucks Bar: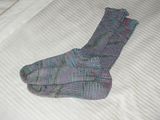 I bound off the second one a little too tight, but since I'd already cut the thread and woven in the ends, I haven't decided yet if I'm going to try to go back and fix it or not. They come up almost to my knees as they are, though, so I could also just choose to fold them down or something. For some reason I'm really not in love with these socks, though, so I might also just hang onto them for a gift or donation. *shrug*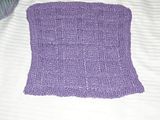 And there's the second washcloth I made from the Euroflax Linen. It ended up being a fraternal twin to the first because I wasn't paying as much attention to the pattern when I started knitting on it and made the first row of squares a couple rows too short and ended up having to improvise a bit to get it to come out the right size.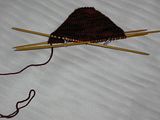 That's the toe of my first Sockapalooza sock. I'm actually almost to the heel turn on it now, but forgot to take a new progress picture this morning when I was out taking pictures with Gnorm.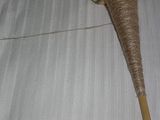 And finally I brought the Foxfire Baby Camel and Tussah Silk with me so I could participate in the Spindler's Spin-in-Public day (first Friday of every month) at the airport in Minneapolis during my layover. I think I'm doing okay with it, but it isn't quite as even as I'd like and I think it might be underspun, but it could just be that it needs to be livened again. I still have more than half the original bag to spin and it's already quite a bit of yarn, so I'm hoping to get enough out of it to do as a two-ply that will end up about fingering weight for a shawl or scarf.

While we were in Kansas City, Cate and Sara invited me along to go to Cottage Fiber with them, which was well, well worth the trip. Cate got some pictures that I'm hoping she'll get a chance to post soon. It's a great, great little shop tucked in an out of the way studio space and it has undoubtedly the best selection of spinning fibers of any shop I've ever been to (which admittedly is not many, but even Cate and Sara were impressed and they've been to that most holy of fiber events - Rhinebeck!) and some really beautiful old wheels. I really can't recommend this shop enough - if you ever find yourself in Kansas City you really really need to check them out and pet all the gorgeousness yourself!

I managed to escape with only a very small stash enhancement (modeled below with Gnorm):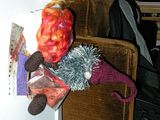 The ball of roving is about 2.5 ounces of cashgora in a really rich red/orange/copper colorway (Cate got the other half of the ball) and the little packet has 4-5 beautifully dyed silk hankies with some amazing copper accents. I've never spun silk from a hankie, but the owner of the shop (who's name I didn't get; terribly bad manners, especially since she opened her shop up special just for us!) gave me some quick instruction and I'm looking forward to getting it started. Maybe if I end up with enough of it I can ply some if it up with the Foxfire.. I realized after we left that I forgot to get some of the amazingly soft angora bunny roving she had, though, so I will have to call and see if she'll mail me some.

Oh, and my fiber swap pal - Elsje - got her package and appears to like it, so that makes me very happy! It was really hard not to hang on to all that fiber, but I'm glad she likes it. The fiber swap packages were all supposed to be sent off by the 5th, so I'm really hopeful that mine will show up today before we hit the road for the cabin!

In one last bit of mailing news, I'm shipping Gnorm off today to his next destination and all the goodies that I've picked out for my next pal are neatly tucked into his box awaiting delivery to the post office. If you missed what I got from Stephanie, I posted about it all over on the Knitting Gnome Swap blog a couple days ago. I really really love everything she sent - especially the tea which is really honestly truly my favorite and she had no way of knowing I even knew about Market Spice (I lived in Seattle for three years between college and grad school) - and I'm bringing the Yarn Pirate yarn with me to the cabin just in case I finish my Sockapalooza pal's socks so I can start right in on some lusciousness for me!